Secure Application Delivery for Any Digital Workspace.
Simply & securely deliver all your business-critical apps to any device, from the browser, so your people can stay productive from anywhere.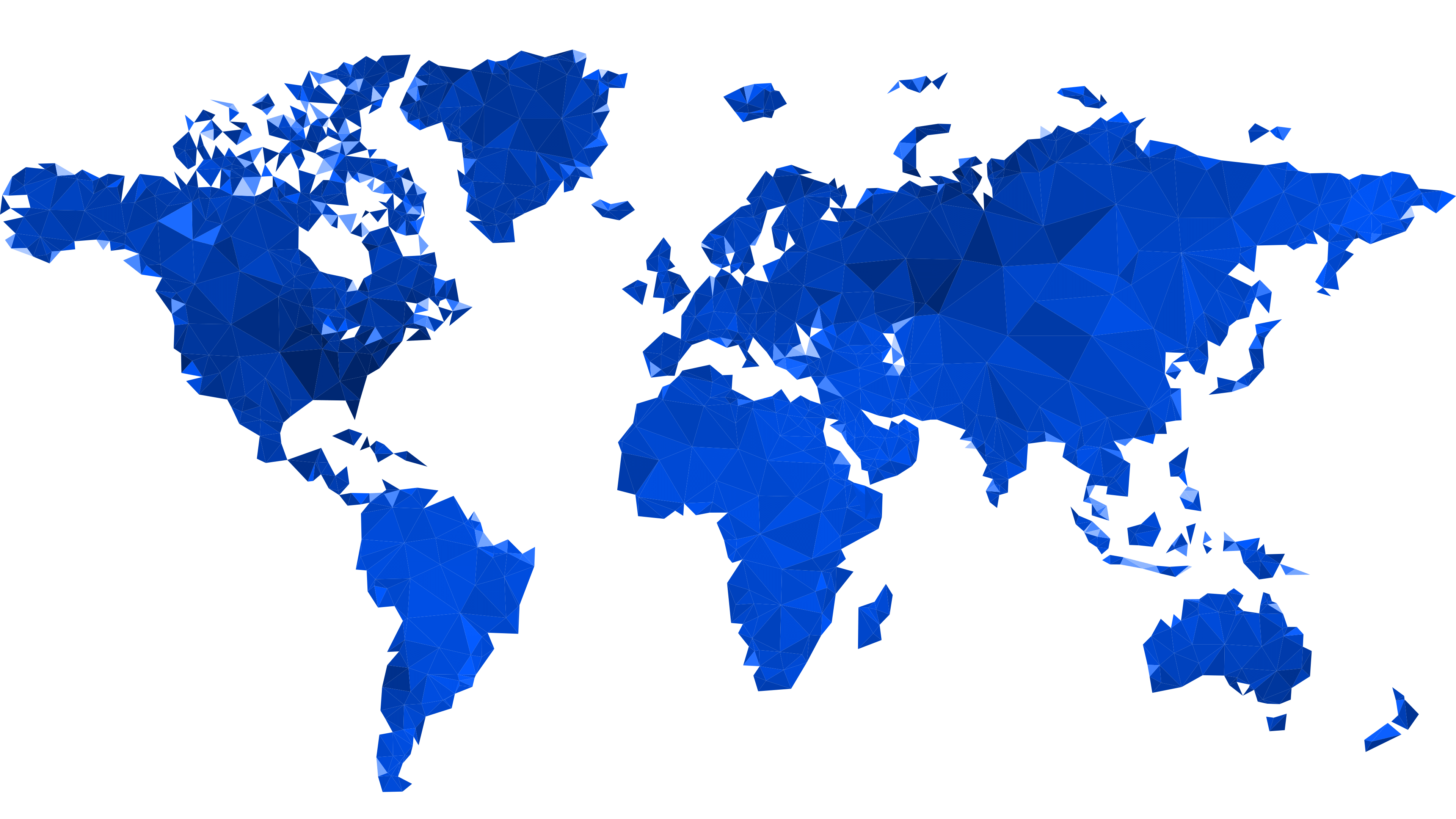 "The language their customers use is consistent: Cameyo is low cost, simple and easy to use, fast to deploy, secure, and isn't aggravating. It is like a collection of best practices in a solution."

"Cameyo's technology allows companies to set up employees to work from home without needing VPNs and the corresponding software on every laptop or desktop… and can be installed in hours for hundreds of employees."

"Cameyo provides your organization and IT with the flexibility and security to best serve employees, regardless the devices they use. Cameyo also provides users with the apps they need AND, most importantly, with the experience they want."

"The need for more durable fixes has driven a wave of new customers to Cameyo, which provides an offering that quickly and cost-effectively gets Windows apps up and running in the cloud for delivery to any remote device."
Productive Hybrid & Remote Work in Minutes, Not Weeks
Whether you're enabling widespread remote work or planning for a hybrid work model, Cameyo helps provide your people with secure access to the business-critical apps they need to stay productive and work from anywhere (WFx) on any device. Cameyo's Virtual Application Delivery platform enables your people to quickly and easily access all of the Windows and internal web applications they need, securely from the browser within any Digital Workspace, without the need for VPNs. 
Cloud Native
A built-for-the-cloud service that runs in any environment – cloud, hybrid, or on-premise.
Multi-tenant platform leverages cloud savings with a per user subscription to prevent bill shock.
Built-in security features include HTTPS, single sign-on, separation of apps from the OS, and more.
Global Scalability
Elasticity and usage management enables dozens of users per instance for cost-effective scalability.
Cameyo was named a Gartner Cool Vendor and supports hundreds of organizations worldwide.
Trusted by hundreds of customers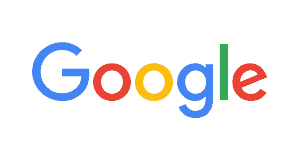 Empowering hybrid & remote work. No VPNs.
Securely deliver Windows and internal web apps to hybrid and remote workers without the need for VPNs.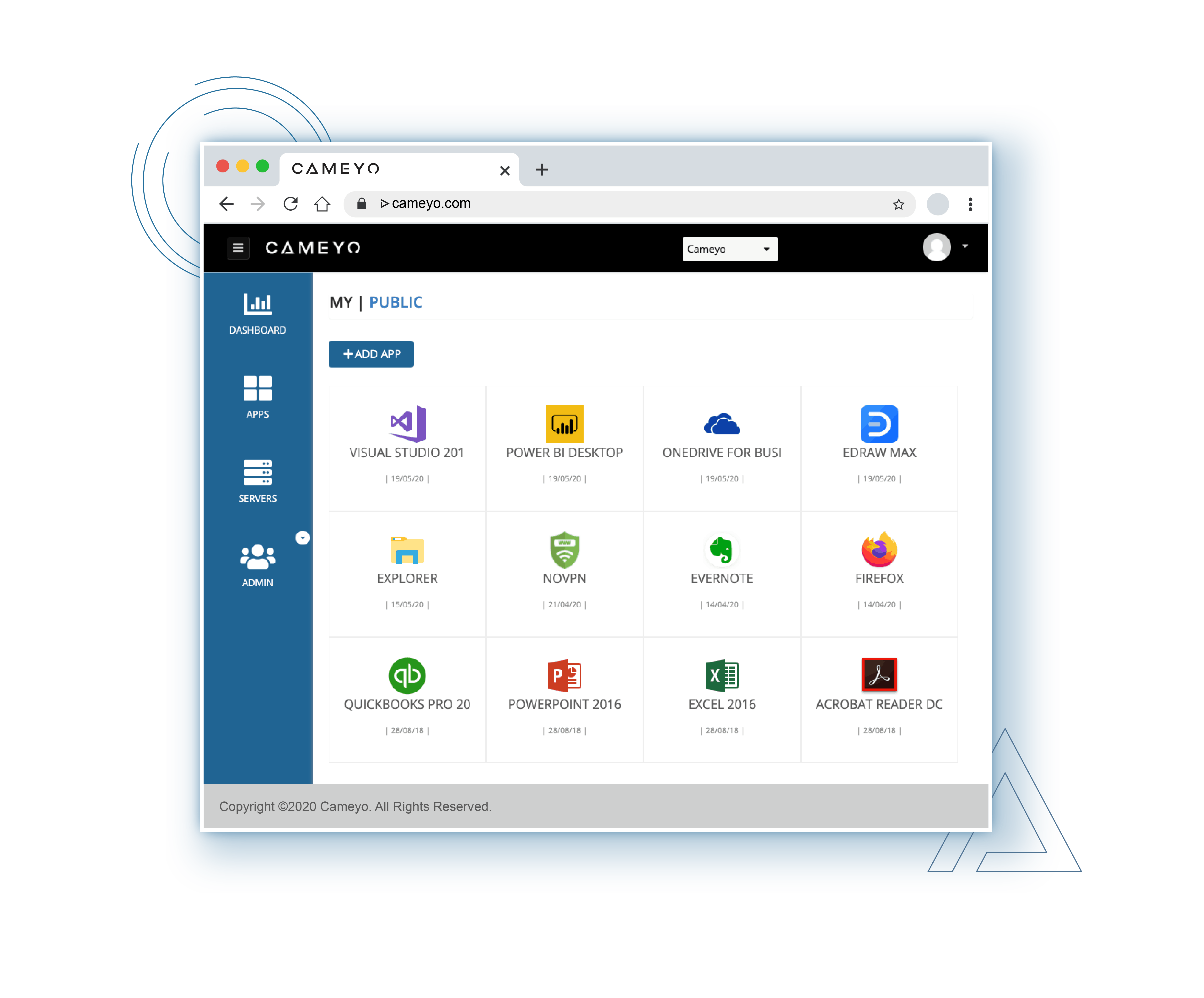 The ultimate in flexibility.
Run Cameyo as a fully hosted service or install Cameyo in your cloud, hybrid or on-premises environment for ultimate flexibility.     
Windows apps from the browser.
Securely deliver legacy Windows apps to any device from an HTML5 browser. Your software runs natively as a cloud instance or on your own server for a superior end user experience.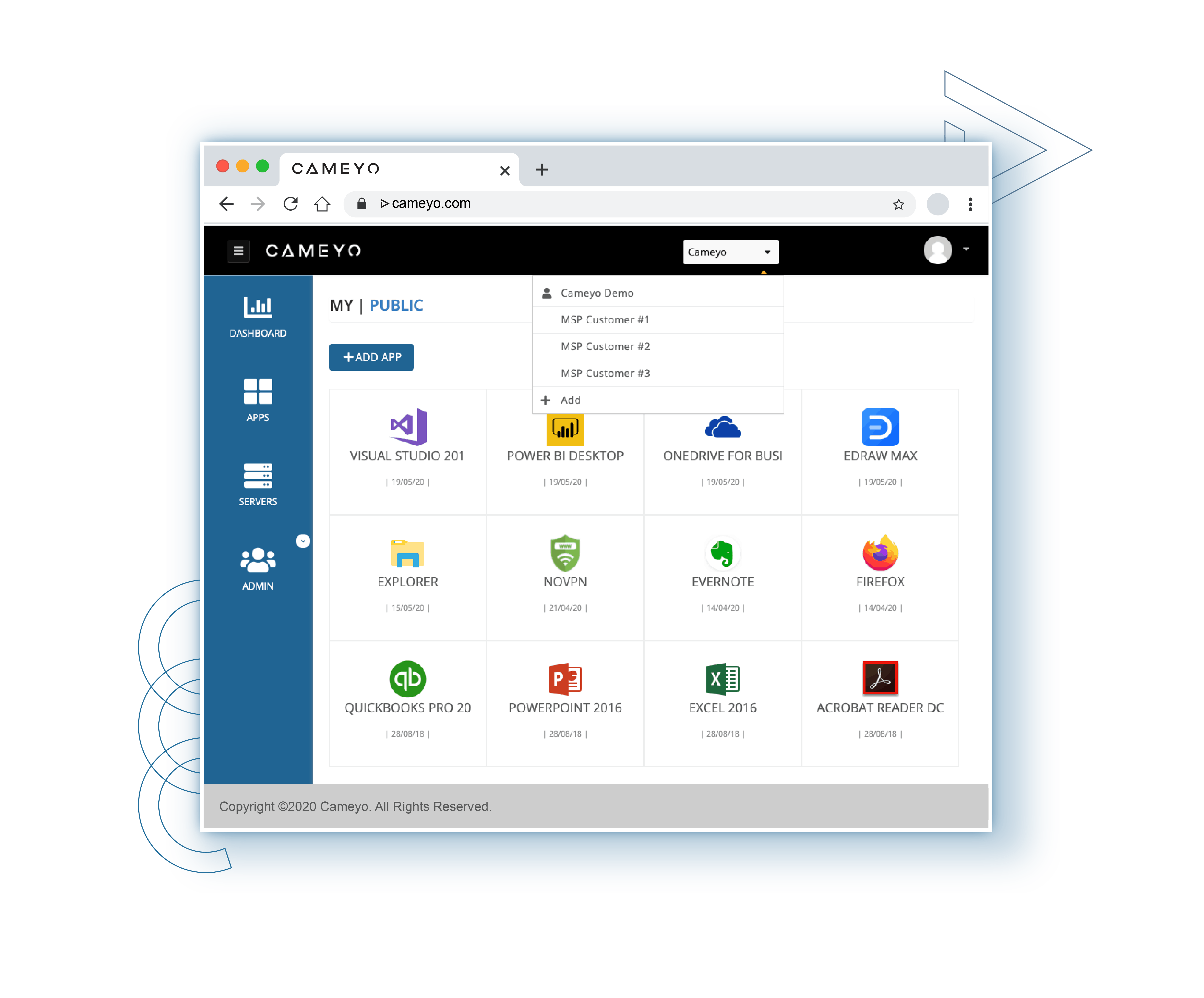 Delivering value for MSPs.
Manage all customers from a single pane of glass, deliver seamless software updates to eliminate on-site visits, and provide simplified billing with a single SKU.
Web enable your software with zero development.
Independent Software Vendors (ISVs) use Cameyo to deliver their software as a service – without any redevelopment costs – and offer instant free trials from their websites.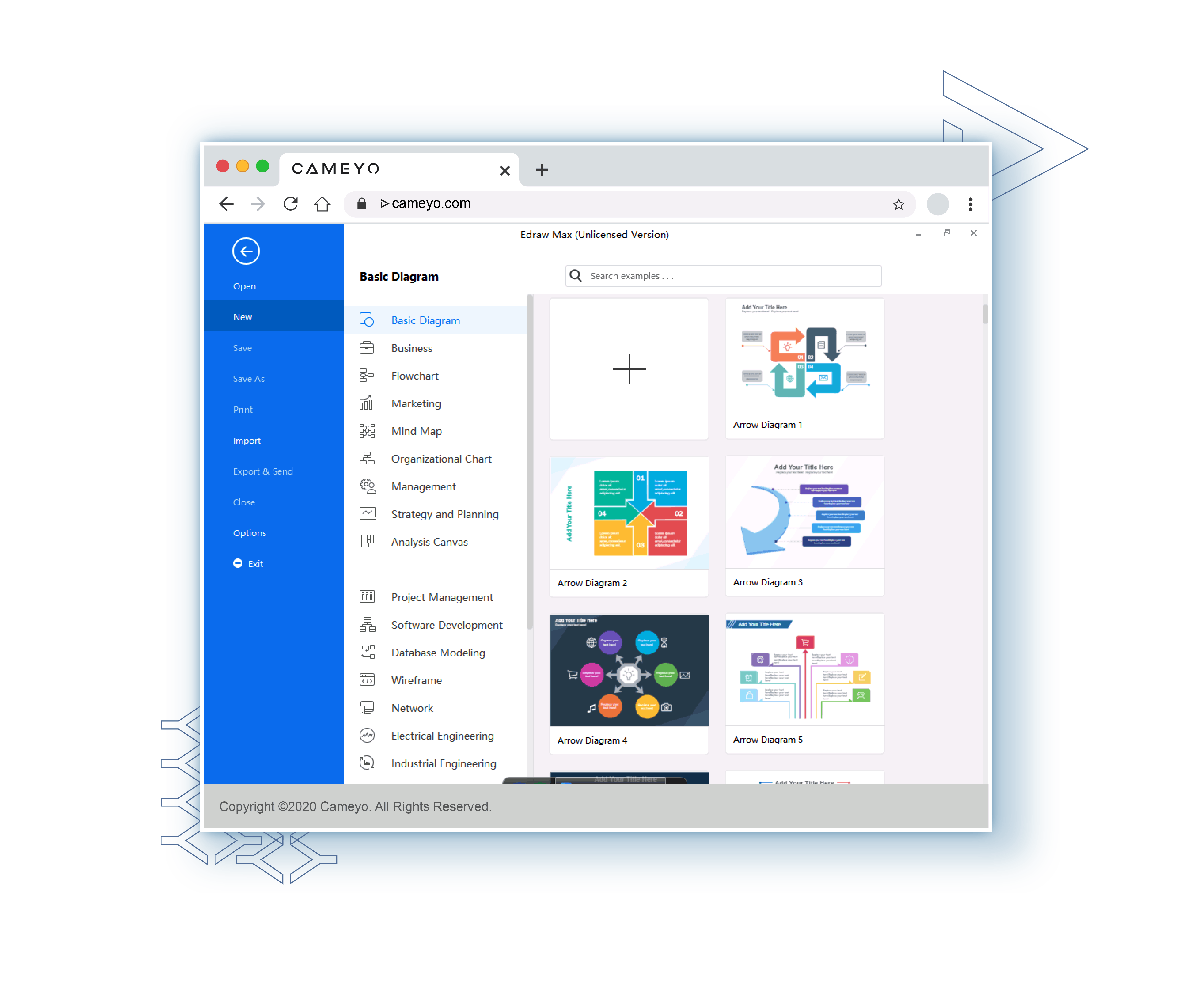 "Unlike Nutanix Xi Frame and Citrix XenApp, there is no complicated infrastructure to deploy and manage. Not only were we up and running with Cameyo in less than three hours, but we can also deploy new applications almost instantly. Cameyo really could not be easier."
Emir Saffar, CIO 

"With Cameyo I was up and running in just one day. That's unheard of when you think of the complexity organizations have traditionally had to deal with when enabling virtual access to applications. But with Cameyo, it's like they've absorbed that complexity and taken it off of the user's plate."
 Christian Ahlin, Group Head of IT

"Cameyo not only saved us a ton of money compared to VMware, but it is incredibly easy to manage, and is more secure. This works better than anything we've ever had, and Cameyo is now going to play a key role in our long-term plans for moving everything to the cloud."
John Cerio, Network Administrator 

"With Cameyo we were able to quickly and easily provide our customers with access to our app from any browser, rather than spending millions of dollars and more than a year redeveloping the app. With Cameyo, Our customers are able to experience ProSolutions with the same responsiveness as if it were a local app."
Mark Wiggins, COO
See for yourself. Try Cameyo for free!
Start your free trial today.
No software to download or install, and no credit card required.